For many Members, the Side Saddle Rider of the Year Title, achieved by qualifying throughout the year and competing in the relevant classes at the National Side Saddle Show is the ultimate aim and pinnacle of their season. Once again a high level of horsemanship and turnout standards abounded at the show this year.
ESTHER AND DENZIL'S STORY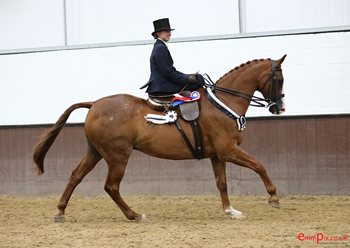 I have been riding side-saddle for 15 years and started with my grey pony Joey with whom I won junior rider of the year in our first competitive year together. I have also been lucky enough to compete in the ride off on several occasions and have previously won rider of the year in 2016 with the lovely Keyano owned by Jen Birkby.
DENZIL: his full name is Penstrumbly Our Abram and his stable name is Denzil. Age 21 and is a PB Welsh.
I have owned Denzil for 11 years, we bought him from our friends Paula and Garry Merton who had previously successfully shown him as a LW hunter and Ladies hunter previously getting to HOYS and RIHS.
Since owning him we have also been to HOYS together as a ladies hunter as well as successfully competing in side saddle classes over the years. He has won the Hickstead Derby side saddle classic a record 5 x as well as at royal Windsor 5 x.
Other than side saddle he has recently discovered his love for jumping and now much prefers this to dressage and showing and are now thoroughly enjoying competing in unaffiliated eventing.
We have really worked hard on our jumping over the last few years which has really paid off as this is what got us into the ride off this year.  He is now so much more balanced and confident over fences and really takes me round the course which he did superbly at the nationals. This is now one of his stronger disciplines and is something that he much prefers.
Winning the rider of the year accolade with Denzil was something that I have wanted to achieve for so long, and was made even more special this year as it was Denzil's last competitive show aside and was the perfect way to end his glittering career at the top.
He is a joy to ride and is a real showman when in the ring and loves people watching him and really performs in front of a crowd.
I work as an MSK physiotherapist in Surrey and travel down to Sussex to ride as much as I can. He is stabled with dressage rider Hilary Sawyer between her, my mum and myself he is kept fit and I couldn't do it without their help. He is a real character at home and can be a little cheeky at times too, often preferring to take the easy route if he can!  He is the perfect all-rounder doing everything from top level showing to eventing and being bomb proof out hacking, and can often be found out hacking alone in gale and driving rain on top of the South Downs with my mum on a regular basis. He really has been my horse of a lifetime and will now enjoy his life with fun jumping events and leisurely hacks across the downs
THE SIDE SADDLE RIDER OF THE YEAR 2021
ESTHER ROSTRON RIDING PENSTRUMBLY OUR ABRAMOWNED BY ESTHER AND LINDSEY ROSTRON.
ADULT OPEN EQUITATION WINNER 2021
EMMA LEE-SMITH RIDING HER OWN BARNYS DIAMOND SMUGGLER PICTURED WITH DALE ATKINSON, AREA 4 CHAIRMAN
ADULT INTERMEDIATE CHAMPION 2021
KATIE YE0 RIDING HER OWN JEORGEO OF EBONY
ADULT NOVICE CHAMPION 2021
MORGAN NICHOLSON RIDING HER OWN BACK SEAT DRIVER
THE JUNIOR RIDER OF THE YEAR 2021
JENNA CALVER RIDING WOODNYMPH OWNED BY DONNA CLAYTON
JUNIOR NOVICE CHAMPION 2021
BINKY CHUNG RIDING RIVERSDALE PAPAGO OWNED RACHEL BICKERS
JUNIOR YOUNG RIDER OPEN CHAMPION 2021
CARNEY RIDING MIDNIGHT MAVERICK OWNED JACQUIE CAPPER
CYGNET RIDER OF THE YEAR 2021
TILLY JACKSON RIDING PRENGWYN PIXIE BOOTS OWNED ANGIE COLLIER